As a leading earring subscription box, our team at EarFleek ensures that we always keep an eye on the latest accessory looks that you'll love! From stud earrings to hoop earrings, we've got it all and then some!
So grab your coffee, sit back, and dive in as we explore some jewelry styles that you need to check out.
Diamond Earrings
Diamond earrings are an all-time classic. These lovely sparkling stones have captured the eyes and hearts of millions for hundreds of years. Once worn by ancient Egyptians, the diamond earring came into popularity in the 19th century and then once again resurged in the 1970s. Diamonds are a style that works for a gogo dancer or even a quarantine Zoom call in 2020. This is why these beauties will never lose their appeal and make the top of our list for 2020.
https://www.instagram.com/p/BzBI_ckjxG8/
If a diamond is a little out of your price range right now, EarFleek is one of the few affordable subscription boxes that allows you to get a new pair of earrings (that you get to keep) for only $3.49 per month.
Otherwise, have a look at cubic zirconia, which is an affordable replacement option for you to get that shiny diamond look, without breaking the bank. If you're more of a conscious consumer, they even grow diamonds in labs now!
Hoop Earrings
Hoop there it is! A hoop is another classic style for a daring woman. One thing to keep in mind with this category of earrings is that size makes all of the difference.
If you err on the side of having a more reserved style, chunky small hoop earrings maybe your friend.
Alternatively, if you're someone who likes to make an impact, large oversized hoop earrings will give you the 'wow' moment you're looking for.
Gold Hoop Earrings
So fashionable they deserve their own dedicated section – Gold hoop earrings are another timeless style that can be punched up or down. Gold hoops are a stylish accessory for anyone's style preference.
You can even create a bohemian vibe by layering multiple gold hoop earrings. This look can be toned down by wearing a white tee or buttondown and suddenly your look will be classy, with a little bit of an edge.
Pearl Earrings
Another classic makes the list, pearl earrings. Once worn by only the most elite Romans and harvested heavily until oysters nearly went extinct, now pearls are cultivated by humans in safe environments that don't hurt the natural environment. There are many types of pearl earrings, including freshwater and saltwater pearls which derive different visual appearances.
Whether you're looking for faux pearls or real pearls, there are many new pearl earring trends in 2020 that we are going to show you below.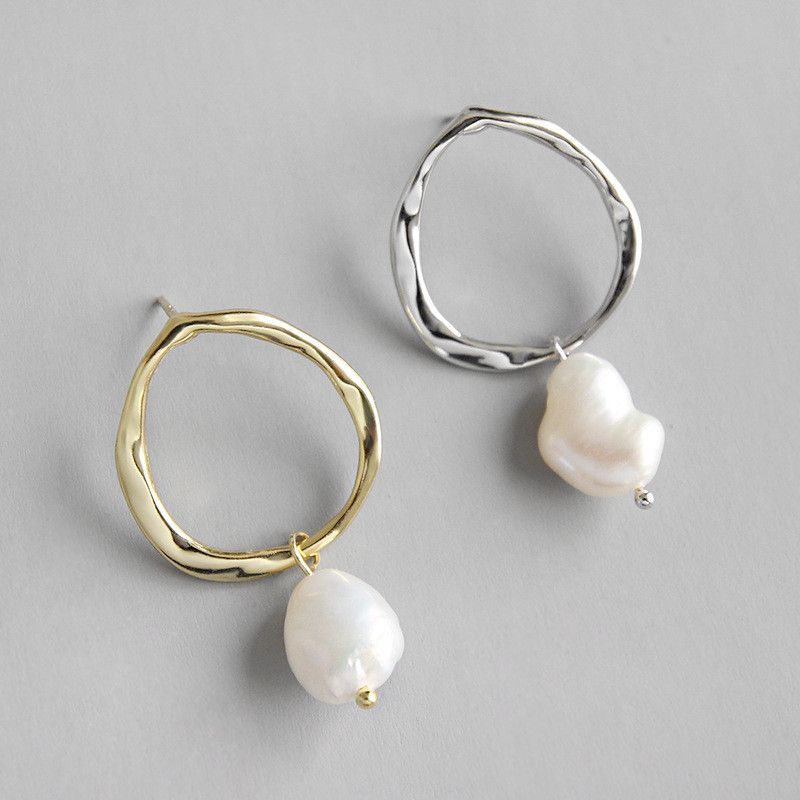 One style that is taking the accessory world by storm is natural look pearls paired with organic silver or gold shapes. These are great for women with a boho sense of style or a considered and classic style.
Maia, one of our EarFleek subscribers shows off her faux diamond and pearl earrings from her EarFleek subscription! We adore how she paired those retro frames with a timeless pearl earring.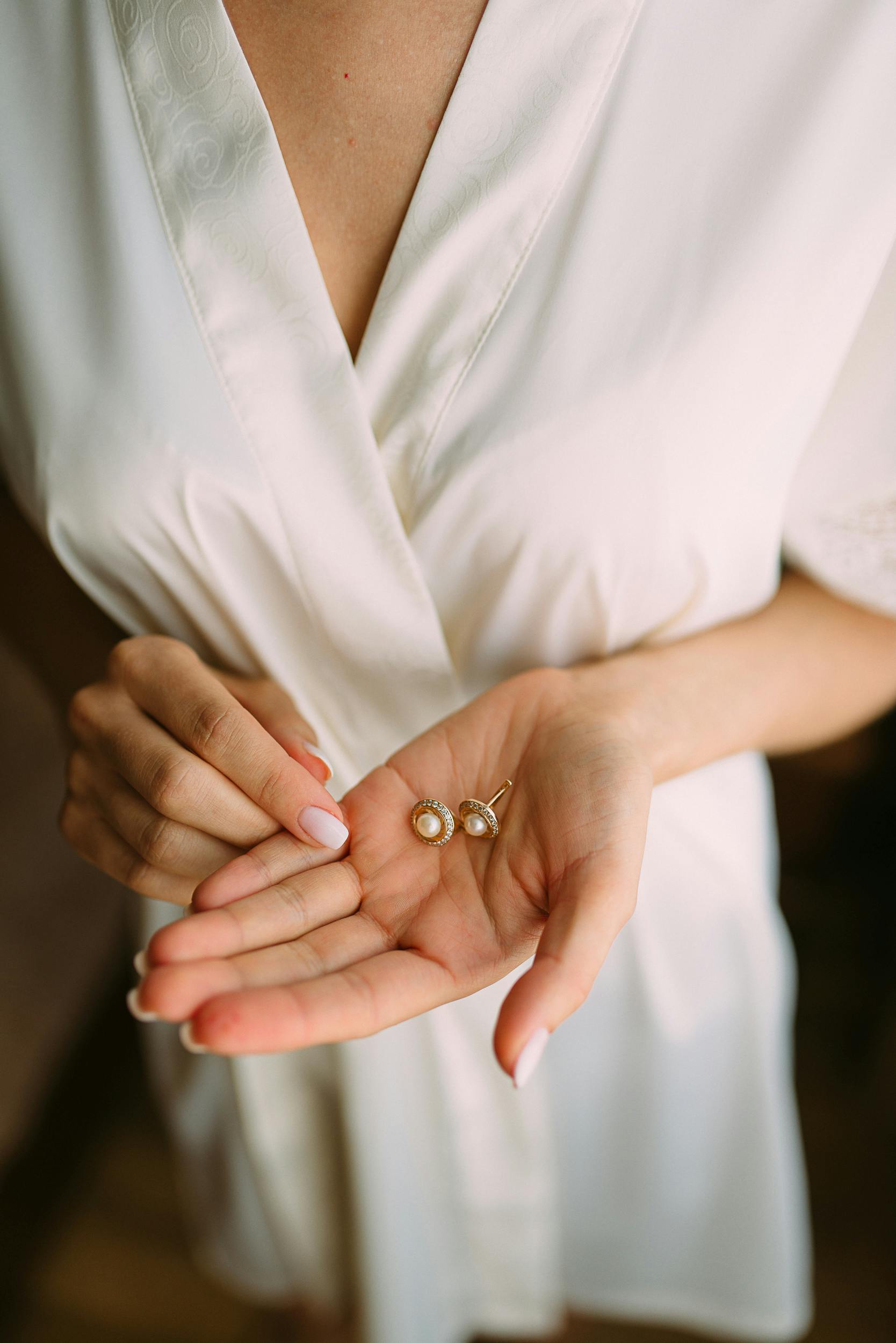 There are also pearl stud earrings, which make for a timeless wedding accessory or an everyday office outfit. The great thing about pearl stud earrings is they will never go out of style.
Speaking of studs, let's talk about stud earring trends.
Stud Earrings
This is something that EarFleek is very well versed in, we love a good stud! They're great because if you have multiple piercings you can layer your styles or even mix and match them if you're feeling daring.
Studs can be cute, charming, minimalist, simple, or classy.
Here are two of EarFleek's more simple stud styles, which may show up in your Minimalist but Groovy earring box. These are a simple, yet wonderful addition to your everyday look.
Stud earrings don't have to be boring either! You can punch up your look and start a conversation with a more eclectic stud style. Stud earrings are a great way to express yourself subtly.
P.S. Don't forget to check out our super cute star stud earrings
For an edgier aesthetic, wear multiple studs. Make it look cohesive with a similar stone or the same metal color.
Cartilage Earrings
Cartilage earrings have been gaining popularity in recent years. Did you know that people have been piercing their ears since 5,000 years ago? They discovered ear piercings on Otzi, an ice mummy that dates back to 3400 and 3100 BCE.
It's probably safe to say that the punk movement made cartilage piercings popular in the 21st century, but now they're adopted by fashion influencers and celebrities all over the world.
Loving the layered earring look? These days you can get clip-on earrings for faux cartilage piercings! Would you like EarFleek to start sending faux cartilage earrings? DM EarFleek on Instagram or comment on this post!
Tassel Earrings
Another accessory credited to the Romans in 330 AD – tassels. Tassels are featured today on handbags, blankets, and as of late they're extremely popular as earrings.
Tassel earrings are a decadent look that can kick up a simple t-shirt to a stylish ensemble in less than a second.
Tassel earrings can be made of chain, fabric, raffia, and more.
https://www.instagram.com/p/B6raRn7FQJb/
Simple tassel earrings are incredible too! Layer them up if you have multiple piercings or keep it simple with a black tassel earring like the one above, available in our EarFleek subscription.
Leather Earrings
Leather earrings are quite often styled as teardrops or leaves. They are laser cut to perfection and can make your casual look stand out.
Dangle Earrings
At EarFleek, we love a dangle earring. They're cute, simple, and can be amped up or down depending on how glam you want to go.
Our EarFleek subscribers love sharing their favorite dangle earrings by tagging us on Instagram, like Noa from @anywayletsunbox 
Gold layered dangle earrings are a classy, but bold style you can wear to the office, or on a date!
These dainty dangle earrings can be worn every day and are a customer fave.
Drop Earrings
Similar to the dangle earring, a drop earring hangs slightly lower with an adornment at the end.
Drop earrings can be worn for a date night or a formal event. They look great with solid colors so the earring can be the focus of the look. They look stunning with an off the shoulder dress or something that shows off your collar bones, as the drop earrings will draw the attention to your shoulders and chin. They also make a great earring to bump up your conference call outfit during quarantine, or pop on a sweater to stylize your spring outfit.
https://www.instagram.com/p/BzlG-IkjpDO/
Here's a pair of one of our drop earrings available in our premiere earring subscription that's less than $10 a month.
Threader Earrings
Threader earrings are made with small hypoallergenic chains that go through your piercing hold and hang with a charm at the end.
Threader earrings are edgy but classy enough that you can wear them every day. Threader earrings are lightweight and an ideal style for any taste.
https://www.instagram.com/p/ByYcv14Hq1Y/
Here's a pair of our dolphin threader earrings.
https://www.instagram.com/p/Bx7d0tgj7Iq/
And don't these gold elephant threader earrings just make your heart melt?!
Cross Earrings
Last on today's roundup of earring styles is the cross earring. These were once reserved only for religious people, but now everyone is sporting a cross earring.
Men and women have flocked to cross earrings in recent years, especially KPOP stars.
Perhaps you're not a KPOP fiend, but cross earrings are for everyone, seriously! They can be girly or glam, it all depends on the cross earring that you pick.
A single simple cross earring works for everyone, just wear a plain stud on the other side!
Or go all out with a boho glam look and wear gem covered cross earrings.
Above is a pair of cross earrings available in your EarFleek subscription.
We hope you enjoyed this article and stay tuned for the next!
Want access to hundreds of earring styles?
If you're someone who wants a monthly subscription box for less then the cost of a coffee, you have to check us out. We have hundreds of earring styles to satisfy the fashion lover in you! We're a cheap subscription box, with high quality, allergy-free earrings. For only $3.49 per month, we ship you a pair of earrings that you get to keep, and the shipping is even on us. What's not to love?